Our research indicates that several states can now utilize rapid testing products for initial screening of donors for drugs of abuse.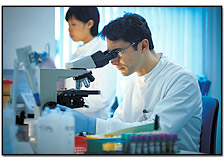 Most of the states that allow this instant test mandate that in the event of a positive initial result, the original specimen be sent to the laboratory for standard laboratory (confirmation) testing. This gives employers the documentation they need in the event of an adverse employment decision and keeps them in compliance with the A.D.A.

Mobile Medical Solutions is proud to utilize both urine and saliva rapid tests for initial substance abuse screening. These rapid tests are available in 5-10 panel kits. These easy administered state-of-the-art tests can be conducted in an office setting, and only takes minutes to obtain initial results. Furthermore, the test kits are self-contained, which avoids "the yuk factor".

Employers utilizing this product are trained to simulate clinical restroom conditions, by turning off all accessible water and bluing out toilets. Each cup comes with a temperature strip to ensure accuracy. These products will rule out 85% of the negative tests, and employers are able to make quick employment decisions in these cases. The other 15% of Donors are sent to the laboratory for confirmation.
Employers save an average of $1,000
for every 100 tests performed.
Contact MMS for more information on whether your organization can start saving money now!